Streamline Your Business with Accountancy Automation Solutions
Accountancy Automation Solutions

'Give Your Accountancy Firm Website a Personal Assistant. Here's how our Accountancy Chatbot Can Help You'
Bypass forms and qualify leads using our Accountancy Chatbot.
In the realm of accountancy, the speed of lead response is critical. A delay of just five minutes in responding to an inbound inquiry can increase the likelihood of losing that lead forever by tenfold!
This is where the power of automation in accountancy comes into play, specifically through Gabba's Accountancy Chatbot. This advanced tool is designed to ask your qualification questions and create leads in your CRM, all without the need for manual form filling. By leveraging the power of automation, Gabba's Accountancy Chatbot enhances efficiency and ensures a swift response to potential leads, thereby increasing the chances of conversion.
Meta Keywords: Accountancy, Automation, Gabba's Accountancy Chatbot, Lead Response, CRM, Efficiency.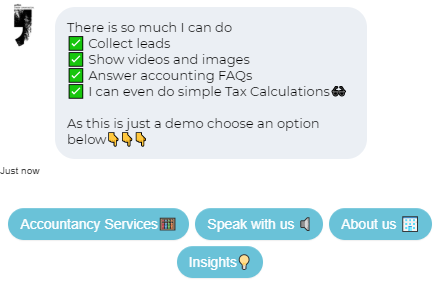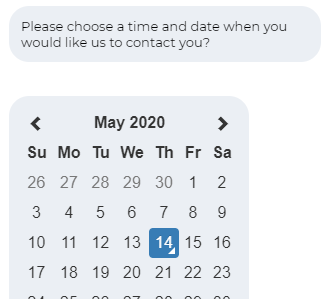 Automatically book meetings for your colleagues.
Imagine if your colleagues could arrive at their desks each morning with meetings already booked for them. That's exactly what our Accountancy Chatbot does, running on your website 24/7, answering enquirers' questions and qualifying leads to present to you!
It connects easily to your team's calendars to pull availability and book meetings as soon as a lead is qualified.
FAQs answered 24/7 on your website!
What would it cost you to pay someone to do live chat on your website 24 hours a day, seven days a week? A lot of money! The good news is, you don't have to. Our Accountancy Chatbot is an intelligent virtual assistant dedicated to providing helpful content to visitors, qualifying leads, and booking meetings for your accountants 24 hours a day, seven days a week.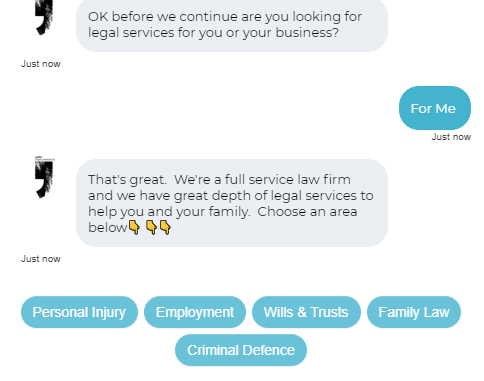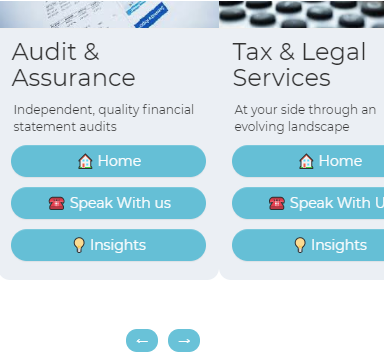 Our Accountancy Chatbot answers people's questions from your knowledge base.
Not everyone visiting your website will be interested in buying your accountancy services straight away. Some are buyers who have support questions, and they have different needs.
That's why we our Accountancy Chatbot is built to answer many of those frequently asked questions that need answering quickly. Our Accountancy Chatbot can check your help documentation and provide answers via your website — no humans required!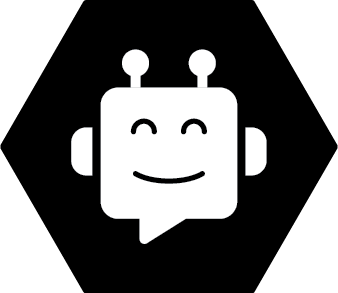 24/7 Customer Service for Accountancy
Deliver great customer service 24 hours a day, seven days a week with our accountancy chatbot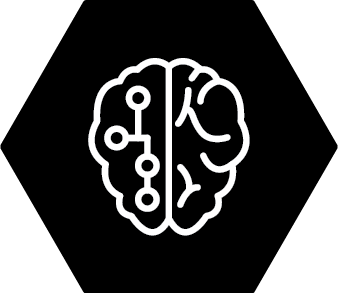 A.I. Automation
Through super-smart automation, our chatbots are able to respond quickly and efficiently to the vast majority of customer FAQs and queries.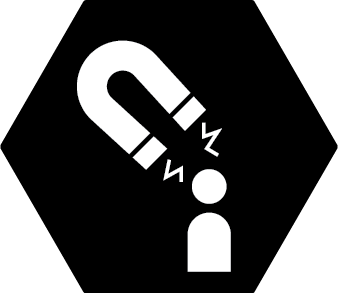 Increased Customer Satisfaction
Personalized chat means delighted customers, great buyer / seller relationships and increased brand loyalty – through customer care in action.
Your accountancy firm can deliver GREAT customer service 24/7 thanks to our Accountancy Chatbot!
Chatbots deliver very high levels of customer service satisfaction – and without the staff costs.
A staggering 84% of clients say the experience firms provide is as important as their actual services
Some 75% of enquirers who experience a chatbot say it changes their expectations of those firms for the better
68% of enquirers now prefer to use self-service channels for simple questions, queries and issues
Our Accountancy Chatbot is the smart way to connect with your enquirers, wherever they are and whenever they want, and keep the lights on in your firm!